The only Instagram compliant growth method that is
guaranteed

to work.
TSMA is globally recognized for our groundbreaking Instagram Account Management. Based on demand, we are now proud to present our newest program focused solely on authentic follower growth.
✔ No bots
✔ No fake followers
✔ No blocks
✔ No banned accounts
We are powered by our decades of relationships with top entertainment celebrities and Influencers, for an exclusive and innovative celebrity cross-marketing system. It's time to grow the way Instagram wants you to grow.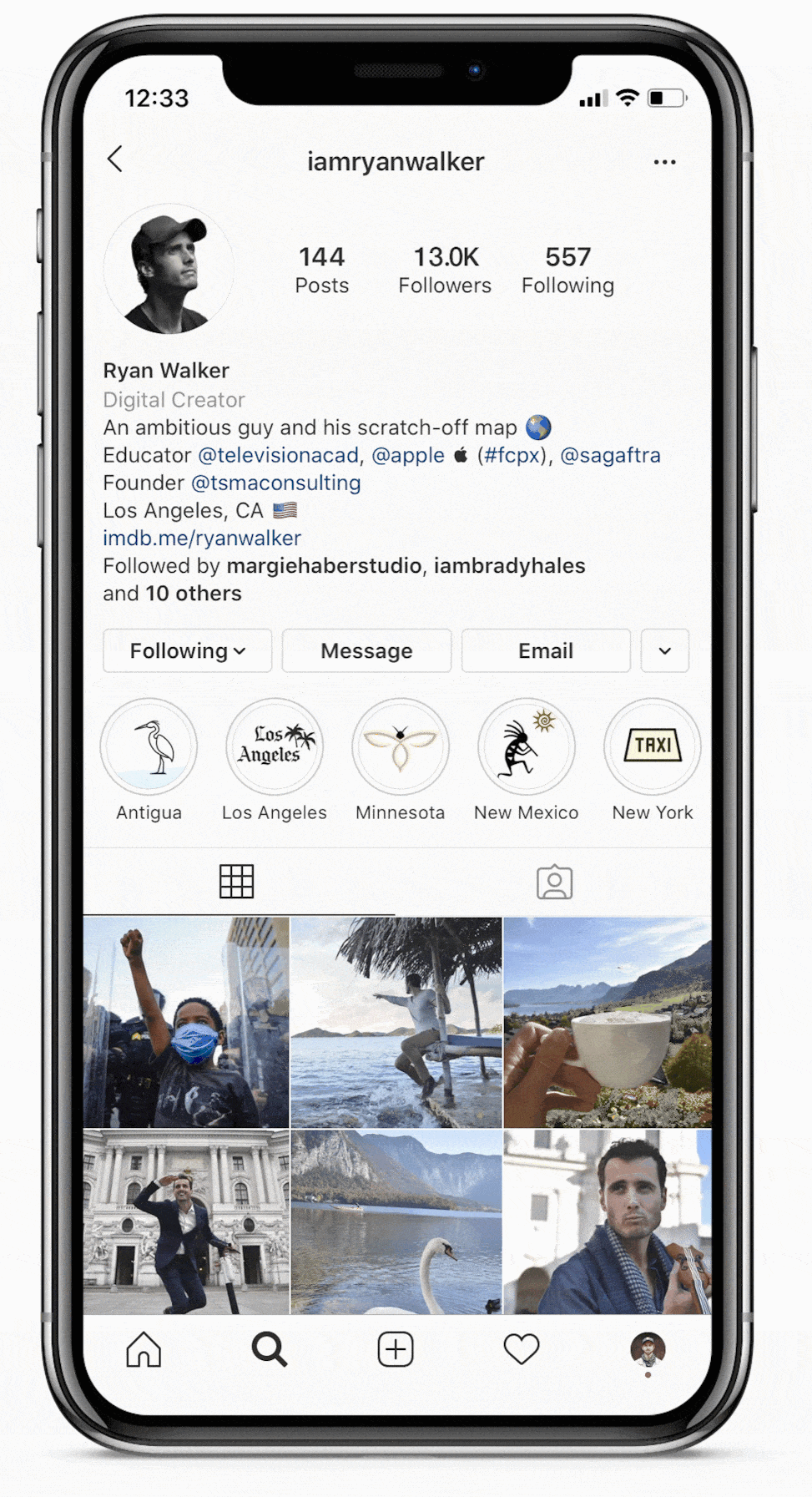 We are the ONLY method of growth that falls within Instagram's Community Guidelines.
✔ Guaranteed Results   ✔ Within Community Guidelines   ✔ No Login Required   ✔ No Automation
✔ Guaranteed Results
✔ Within Community Guidelines
✔ No Login Required
✔ No Automation
Trusted internationally, our team has been featured by: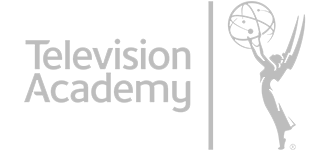 "The TSMA Team is the definition of excellence, integrity, creativity, and professionalism. They are a proactive force in Los Angeles in this ever-changing digital world. TSMA has given us everything we expected and exceedingly beyond. They're excellent at what they do because they truly care."
CINDY OSBRINK | THE OSBRINK AGENCY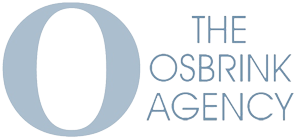 Real Instagram Fans and Customers, in 3 Simple Steps
Our growth program is simple, and fully within Instagram's community guidelines.
No bots. No Automation. No login needed.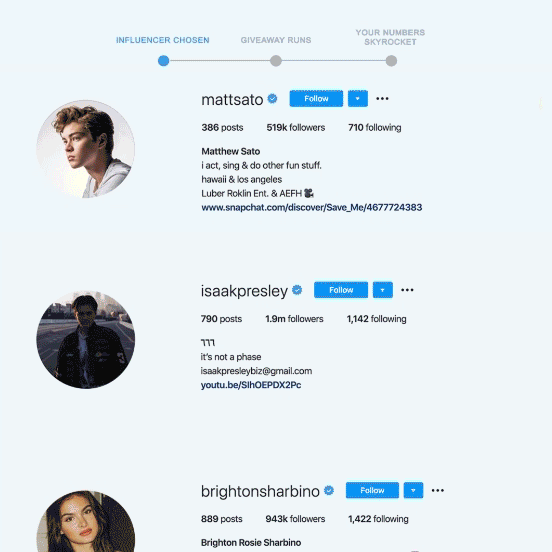 We choose a celebrity with a diverse, engaged audience (over 500,000), that we feel will best support your growth goals. We then book and execute the collaboration.
The Celebrity Posts A
Charitable Giveaway
Within a 30 day period, your giveaway collaboration will go live on the celebrities profile, with detailed instructions. We partner with brands like Apple, Saramonic, and many others to provide the best products to their fans, as well as donate to a new charity each month.
Your Followers Begin
To Grow
To win those products, and increase our charitable donation, the celebrity's fans are asked to go to your profile to follow you.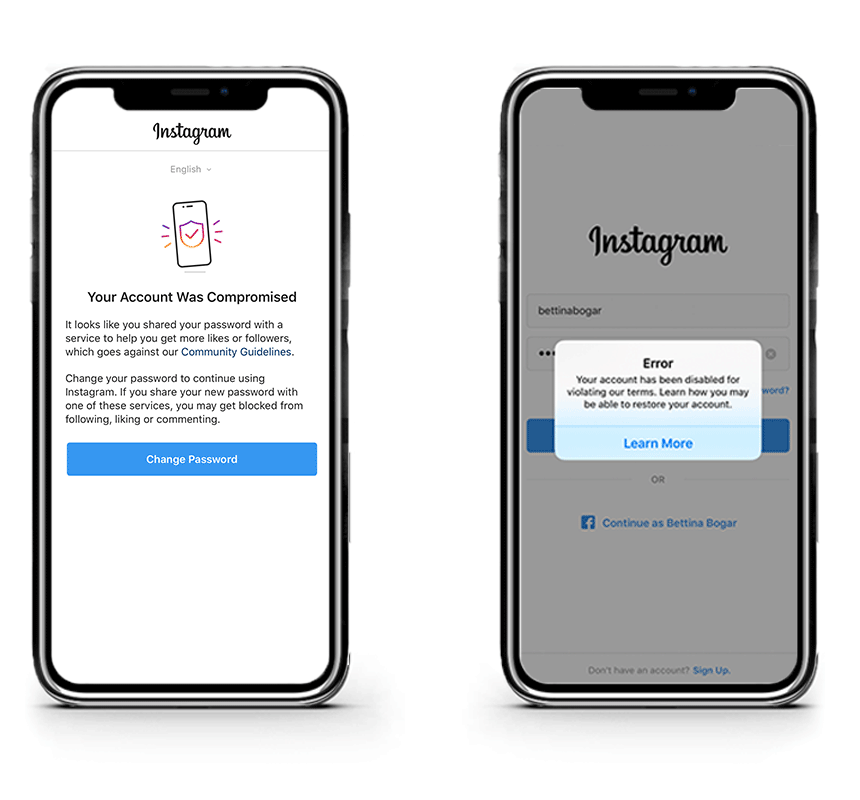 Don't let this
happen to you
We constantly hear horror stories of other services causing shadow banning, countless errors, or worse, account suspension. We created this growth program to solve a major problem in the social media world, and create a system that is sustainable for a long, long time.
We have brought together the best minds in technology and marketing to deliver unsurpassed, guaranteed results to our hundreds of clients. The best part; we are always just a phone call or a text away.
Don't gamble with your public image.
Ready to Build a Genuine Audience?

We proudly manage a coalition of the world's most successful profiles and brands. Here's what just a few of them have to say: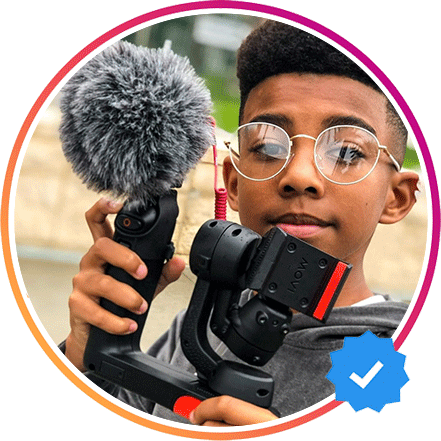 TJ Wright
Working with TSMA was a great experience. TJ grew 7,000 followers, and his page is a great representation of his talent. Looking forward to working with them all again.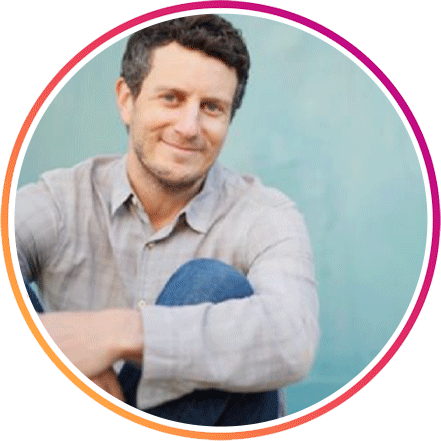 Jesse Bernstein

Working with the team has been great. Met with Ryan and he showed me a step by step process of how to become an influencer and brand myself on Instagram. My growth has been steady and organic and my followers continue to engage in my content.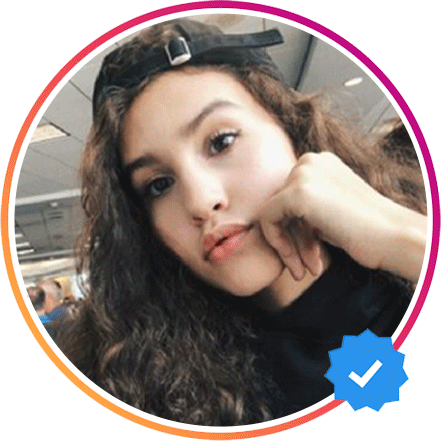 Sarah Silva

Thank you so much for helping me get my Insta going, couldn't had done it without you!!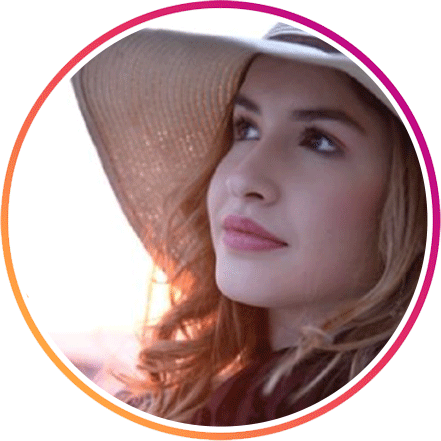 Naomi Lalonde
This overall was an excellent experience. They helped to educate me on the best way to create my own content while they were taking amazing photos and building my fan base. I was able to change my account from only three photos to now having the best account in my entire school and acting class! Thank you!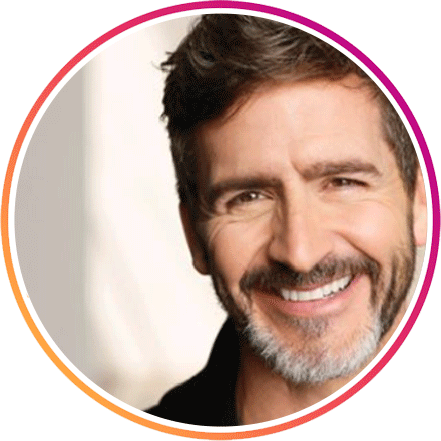 Shad Adair
I built a career in the software industry and consider myself an early adopter of social media. I was working hard on my social media efforts but not seeing the traction I expected. Ryan and his team are exceptionally talented. Since our initial meeting, we immediately put into motion a plan that organically grew my Instagram followers by a magnitude measured in the tens of thousands. I routinely recommend this team for anyone who is working at becoming a social media influencer and also for existing influencers looking to expand online presence.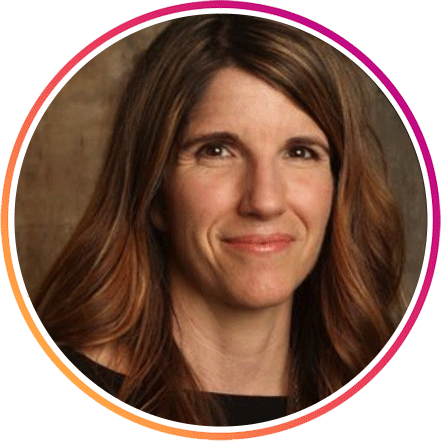 Mandy Fabian

These guys are clear, concise and lay out an achievable, logical, user-friendly plan to use Instagram in a way that actually makes you happy, helps you add value to others, and builds your brand! I would highly recommend them to anyone who needs a clear understanding of how social media can be a great asset in your life, without all the spiraling into information rabbit holes. And they're funny and nice. So win-win-win.
Meet Your Team of Experts
Just a few of your dedicated TSMA team: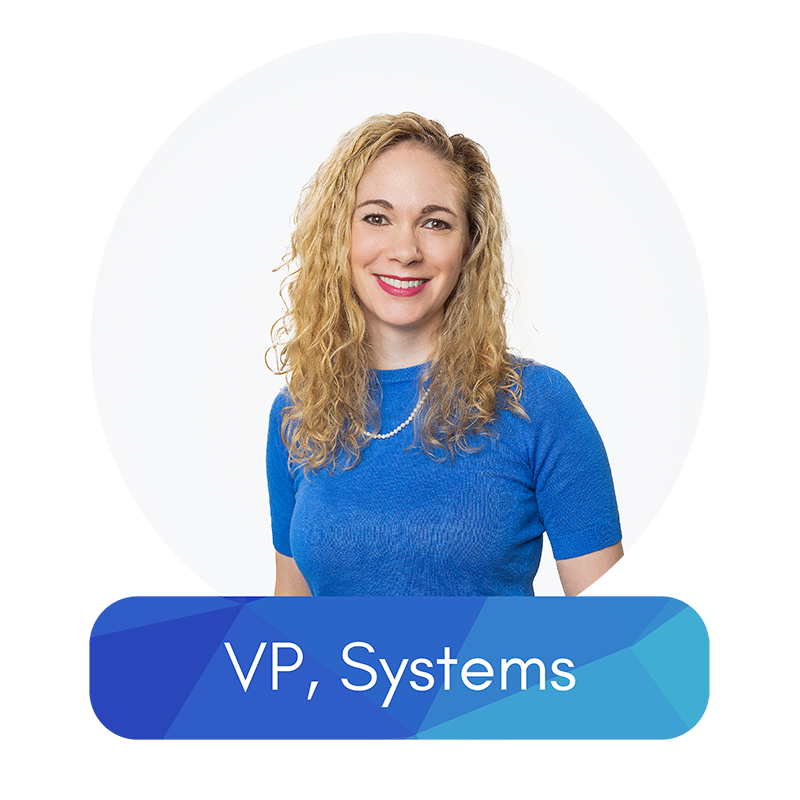 BETHANY GAYTON
"The Instagram growth landscape is ever-changing, and TSMA's team continues to lead the industry with our powerful yet affordable program, offering the highest quality growth available. Our commitment is to deliver exceptional service to our clients, maintaining full transparency in our account growth methods. Additionally, we provide resources to empower you for success, helping you make the most of your new audience. We can't wait to help you grow!"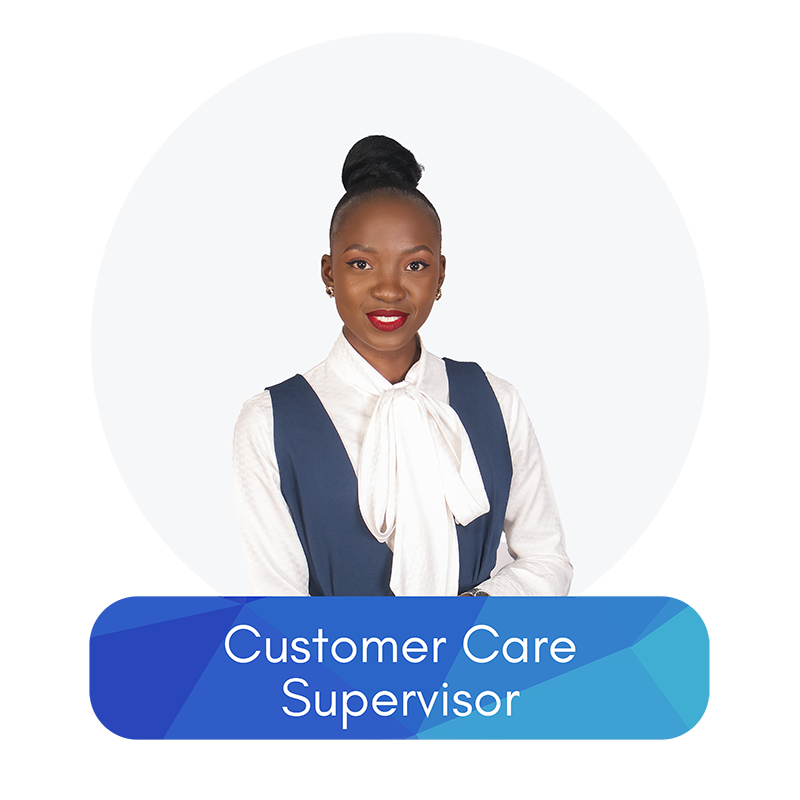 TERESINA KAMAU
"We are very much looking forward to working with you to take your business and digital brand to the next level. If there is anything we can do to make your experience with us more streamlined and pleasant, please reach out any time."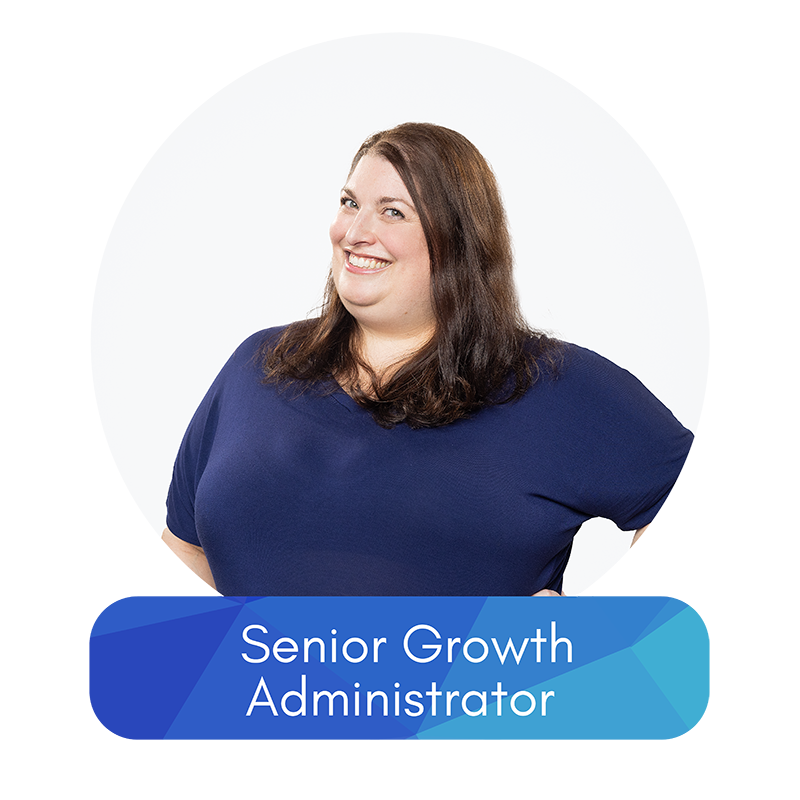 JEN LEVIN
"There are so many faceless social media companies out there, and I love being part of a team that cares about you. I love seeing people's audience grow every single month. TSMA's paramount commitment is to assist you in achieving your social media objectives, and that's precisely why we've crafted a strategy that truly delivers results!"
We will reach the minimum gross growth for your Instagram account outlined in your plan each month, or your money back. Billing recurs on the 1st of every month.
850 Minimum Followers Per Month

No Instagram Login Needed

Diversified Audience from Global Influencers

Full On-Boarding Video Including Tips to Optimize Your Account

Premium 5 Days/Week Text Support
2,000 Minimum Followers Per Month

No Instagram Login Needed

Predominantly English-speaking audience

Full On-Boarding Video Including Tips to Optimize Your Account

Premium 5 Days/Week Text Support
4,000 Minimum Followers Per Month

No Instagram Login Needed

Predominantly English-speaking audience

Full On-Boarding Video Including Tips to Optimize Your Account

Premium 5 Days/Week Text Support
Looking for even more growth? Have more than 5 accounts? Interested in full account management?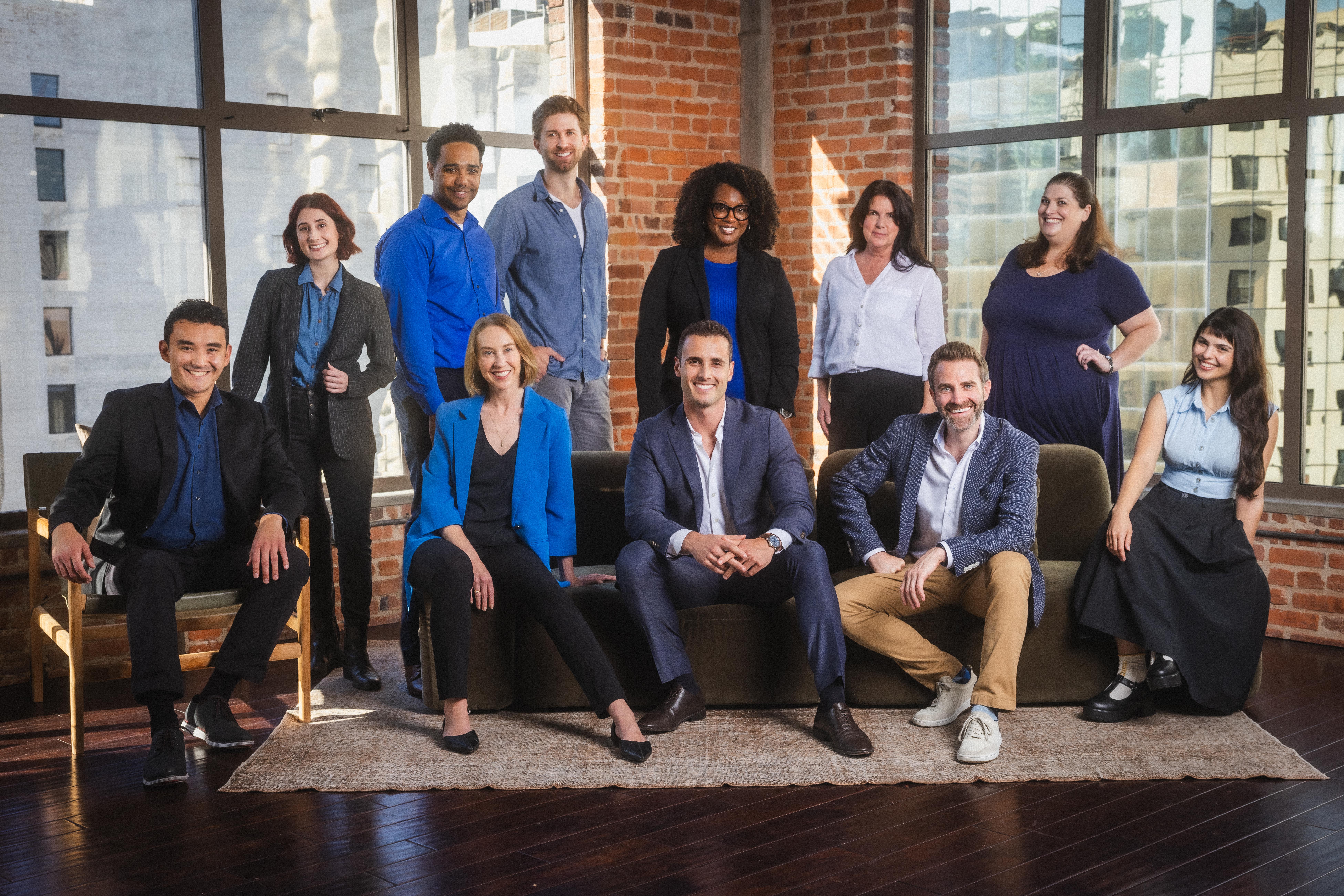 Frequently Asked Questions
What happens after I sign up with TSMA?
You will receive an email confirmation of your purchase, as well as a text message confirming the sign-up. You will also receive an email with welcome materials and an on-boarding video.
Communication is very important to us; we want you to have as smooth of an onboarding process as possible. Please note, International numbers will not receive a text message, and will hear from our team via email within 2 business days.
How many followers will I gain, and can you guarantee they will keep following me?
We guarantee a minimum amount of new followers every month, based on the plan you choose. This follower number is the gross aggregate number of new followers you receive during the Influencer campaign(s) for that month. You can expect to retain most of your new followers, although it's natural that some people will choose to unfollow once the giveaway ends.
It's always best for your page to retain the followers who genuinely appreciate your content and choose to stay. We will provide you with regular tips to optimize your presence for the best retention.
How long until I see growth on my account?
Your growth will occur in conjunction with an Influencer campaign, which can take place at any time during the calendar month. All of your guaranteed growth will happen before your next renewal on the 1st, and we will always do our best to give you as much advance notice as possible, usually 48 hours prior to the giveaway.
Will Instagram flag my account or disable it because I use this service?
No. TSMA's growth program is the only method that works within Instagram's Community Guidelines, Terms of Service, and with Instagram's own algorithm. This is a growth service built to last, with zero reported errors.
Will this work for my industry?
Absolutely. Whether you are an artist, a business, or anywhere in between, our service has guaranteed results. Building a large, diversified follower base creates instant credibility on your profile.
What type of accounts do you use to help grow my account?
We proudly work with high-profile accounts, primarily in the entertainment industry. We are family friendly, and do not work with violent, political, overtly sexual, or offensive profiles. You can expect a diversified, international audience from the top 1% of profiles on Instagram.
The quality of our partners is one of the reasons TSMA is so unique.
Can I specify who my campaign will be with?
Unfortunately, due to the nuances of our booking process and many months of development involved, we are unable to accept specific celebrity requests. However, if you know someone you believe we should be working with, please feel free to let our team know!
Are all the followers real?
Yes, the people who are following the Influencer have to
choose
to follow you in order to enter the giveaway. It is essentially impossible for a fake account to complete this process, and anyone caught attempting to game the system in any way is immediately blocked and banned from our giveaways.
Do remember that the vast majority of the billion plus users on Instagram use it to consume, rather than create content. As such, many accounts may not be as robust as the ones you're probably used to following.
What do I do if I have questions about my growth results?
Clients have a period of up to 2 billing cycles, after the completion of a campaign, to request an investigation into their growth results. This means that as long as the client is not paused nor canceled, growth from up to two previous campaigns can be successfully cross-checked by our senior growth team using multiple verification methods to confirm the client's results. If the growth from the campaign is proven to be inconsistent with our standards, the pending growth will be provided in the next available campaign.
Our team will request that any client expressing concern about their growth result provide screenshots of the analytics on their Instagram profile to support our investigation.
Can I target specific demographics for new followers?
Unfortunately, it is not possible to target niche-specific demographic audiences through celebrity campaigns. In fact, the people we are booking for the campaigns have diverse, international audiences to provide your page with a global reach.
Currently, the only way to target niche-specific demographics on Instagram is through paid advertising, creative content and copy, targeted Hashtags, or active engagement. All of these services are included in TSMA's management packages at various levels, found on our primary website.
Of course, our growth program is highly effective, and will support in building a large, authentic audience for your profile from around the world.
Will the followers actively engage with my content or just follow me?
Many variables factor into whether your new followers will engage with your content or not. Instagram engagement is largely based on content quality and reciprocity of engagement with your new followers. 
As a client of TSMA, we will invite you to our industry-leading digital social media seminars, where you will learn how to build a profile that engages your audience. In short, they will engage if you provide content that is indeed, engaging.
Can you just do a separate consultation for my account?
We provide you with a complimentary on-boarding and optimization video course upon signing up. However, if you want more hands-on support for your account, we recommend you consider our full Management Packages
Do you accept all customers/clients?
We are able to work with the vast majority of profiles. However, because TSMA is a family-friendly company, we are unable to promote pages that contain content that would not be suitable for a broad audience. This may include: graphic, violent, or sexual profiles, pages with listed age restrictions (such as marijuana), and some overtly aggressive accounts. TSMA does reserve the right to refuse service to any page that we feel might be disruptive to our policies.
How does billing work? Does my payment recur on the 1st even if I sign up part way through the month?
Your first payment will be processed as soon as you check out on this website. You will then receive the guaranteed minimum growth you paid for by the end of that calendar month. For every month thereafter, billing will automatically recur on the 1st of the month.
If you sign up at the very end of a month, we may still be able to add you to a current campaign before billing recurs on the 1st. If not, our team will reach out to you and your payment will roll over to the next month.
If I need assistance once I'm a client, how do I reach you?
At TSMA we provide customer support Monday – Friday from 9am – 6pm PST via call or text: 213.344.0997.
Can I cancel or change my subscription at any time?
Yes! Simply text our team at 213.344.0997. We want you to be happy and confident with our services, but of course, our biggest success stories have been with us the longest.
It is important to note that if you cancel after you have received your guaranteed growth for the month, your cancellation applies to your next renewal, and you will not be charged again.
Although we will do our best, we cannot always guarantee changes will be implemented prior to your next renewal, if the changes are requested after the 5th of each month.
Can I change my Instagram handle after signing up?
Yes! If you would like to update your username after signing up for our services, you can request a handle change by informing our team through call, text or email, and completing our TSMA handle change form.
Important to note, frequently changing your username/handle can make it difficult for people to find you or your business on Instagram. You should consider your username permanent, and only change it if you are rebranding.
It is also not algorithmically beneficial to switch between accounts as lulls in service can disrupt future growth and overall follower retention. For this reason, we offer a $40 discount to enroll each additional account you have on Instagram. Please reach out for the discount code!
What is TSMA?
TSMA Consulting (TSMAconsulting.com) has been the entertainment industry's premier social media management firm for the last decade. By fully running the accounts of those who run Hollywood, we have generated powerful and longstanding relationships with some of the leading celebrities and businesses around the world. Our Growth Program is our most recent development, making available our proprietary growth processes at an accessible monthly cost.
We are so honored to have the opportunity to work with you.